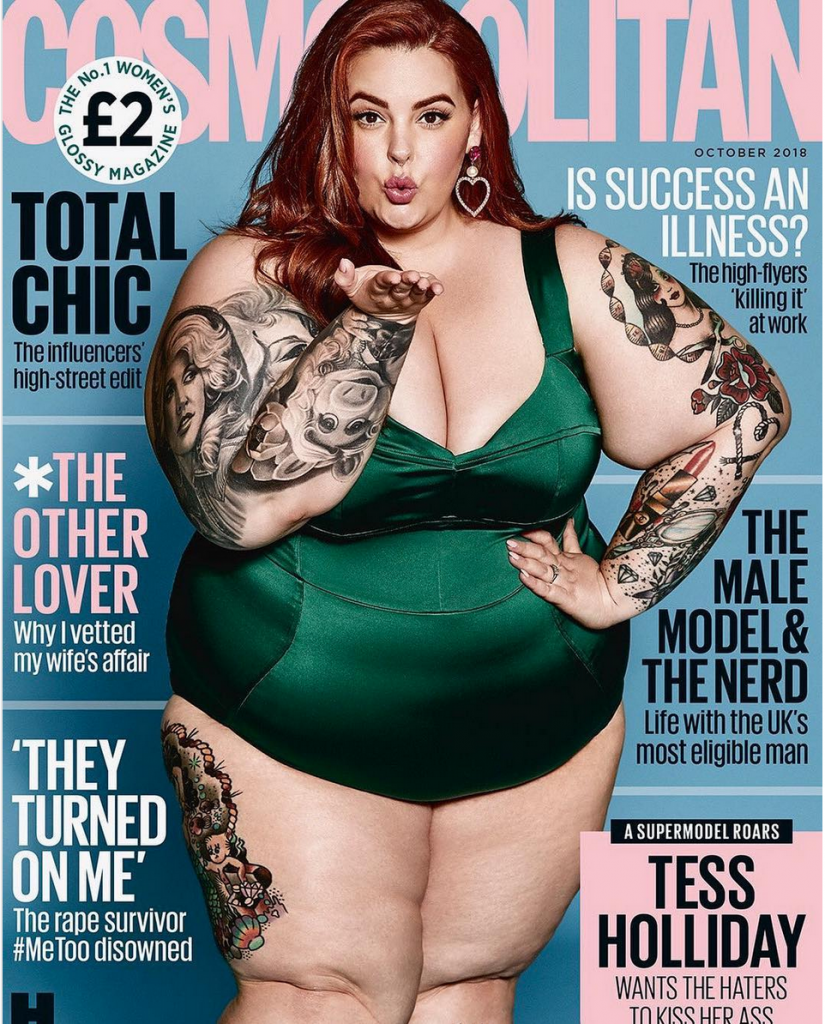 Piers Morgan, Trump's good friend and Celebrity Apprentice, tabloid executive turned Larry King, turned sent back to the UK..posted up a picture of a very fat, like exremely fat Tess Holiday, a plus sized monster I try to NEVER post about because she's got zero appealing about her, unless you're into burlesque or nerdy sci/fi fantasy shit and you've always wanted to fuck a dragon, a reference I am making because the weird skinny nerd dudes who LARP are always the dudes with girlfriends this size….and her vintage tattoos scream that Betty Paige shit, thinking that she was chubby so this is just modern chubby, while anyone with a brain or eyes sees that it's fucking dangerous…this is SO fucking unhealthy fat…to celebrate her in anyway is a fucking health risk in and of itself…there is no way this girl is not going to die premature and doesn't already have disease…it's sick.
But instead of defending health…Cosmo follows the trend of body positivity and posts her on the cover for all their fat readers…trying to break ground and break social norms and be inclusive cuz it's relevant…
When it's so fucking negative….but everyone is too scared to say "yo fatty shut the fuck up and work the fuck out and come back when you're not fucking half dead"…..
Sure she's a weird fetish, keep her as that, feeder fucks…don't give her mainstream coverage..
That said, Piers Morgan stood up to the media loving the fat chicks and said:
=============

"As Britain battles an ever-worsening obesity crisis, this is the new cover of Cosmo.
Apparently we're supposed to view it as a 'huge step forward for body positivity.' What a load of old baloney.
This cover is just as dangerous & misguided as celebrating size zero models."

To which I siad…
A load of baloney this monster will likely eat all of…and still want more…
Cuz I am funny..SEE …..