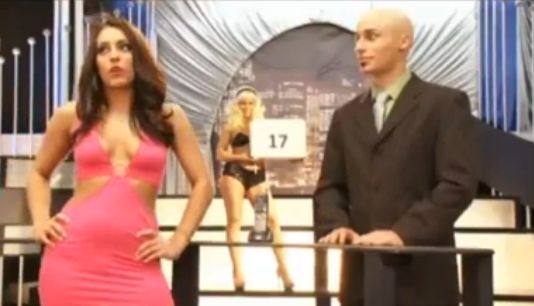 I really love all the porn parodies. I was excited when I saw they did one for Deal or No Deal. The premise had so much potential, although I was not impressed with the direction they took the video in.
Don't get me wrong, this is still a hot vid as I'm sure you will agree. In real life the bitch should be whoring herself for the banker, he's the one with the money after all. It was also nice to actually see the banker. Now every time I watch the show, this is what I will be imagining going on. Not that it is far off from how I pictured it anyhow.
What I really wanted from this parody was a sex scene with the known germ-o-phobe Howie Mandell character. I understand why they didn't go this route, it would be hard to write, but how hot would it have been to watch the lady contestant "fuck" Howie without actually touching him? She could be in the doggystyle position moving back and forth like she has a cock in her, while Howie just stands there with his dick out moaning like it's in her. He wouldn't even be jerking it, as I'm sure his condition would prevent him from going there. And it would have to end with Howie busting a monster load all over her ass, again all without touching it. I wonder if that is even possible, but it would definitely be hot if it is.
Ok, it probably wouldn't be all that hot, but it definitely would have been in your face funny. Just sayin'.

official deal or no deal parody 3 – gracie glam brought to you by MadamMeow even though these faggots deleted my account today.